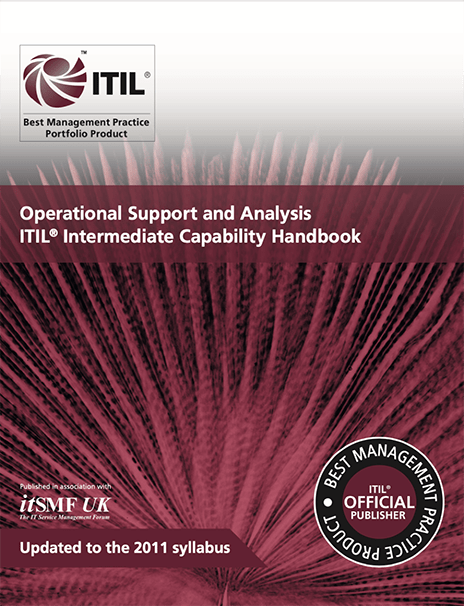 Operational Support and Analysis
FREE
This guide provides a quick reference to the processes covered by the ITIL® operational support and analysis (OSA) syllabus. It is designed to act as a study aid for students taking the ITIL Capability qualification for OSA, and as a handy portable reference source for practitioners who work with these processes. This guide is not intended to replace the more detailed ITIL publications (Cabinet Office, 2011), nor to be a substitute for a course provider's training materials. Many parts of the syllabus require candidates to achieve competence at Bloom Levels 3 and 4, showing the ability to apply their learning and analyse a situation. This study aid focuses on the core knowledge that candidates need to acquire at Bloom Levels 1 and 2, including a knowledge and comprehension of the material that supports the syllabus.
Download Ebook
180 pages, published in 2013
Updated in line with the 2011 editions of the core ITIL® publications and the Operational Support and Analysis (OSA) syllabus, this quick-reference guide is a useful study aid for the OSA module of the ITIL Intermediate Capability qualification. Beyond the exam, it serves as a practical resource that can be used in the workplace. Companion volumes covering the other Intermediate Capability modules are also available.
TSO