Site-Specific Safety Plan

A SSSP is the document that helps to provide clear, law-compliant and detailed enough instructions on the construction process safety. It is to be designed specifically for a particular project - for instance, ConstructionSuper.com offers SSSP among the other construction-related services: link.



What is a Site Safety Plan?
Being a crucial section of any construction contract, a Site-Specific Safety Plan (SSSP) increases the efficiency of construction jobs significantly and gives a complete understanding of safety guidelines. SSSP also provides a framework to follow in order to make the project legally secured in terms of job safety. This includes hazard identification and management, employee training, assessment and certification, emergency plans, accident reporting procedures and so forth.
Jobs that require a Site Safety Plan
Legal conditions are to be diligently checked in the each particular case, although the common list of construction activities that imply the SSSP is as follows: ✔️ New building construction ✔️ Excavation ✔️ Demolition (with exceptions) ✔️ Public & property risky jobs ✔️ Floor removal ✔️ Building enlargement - and much more.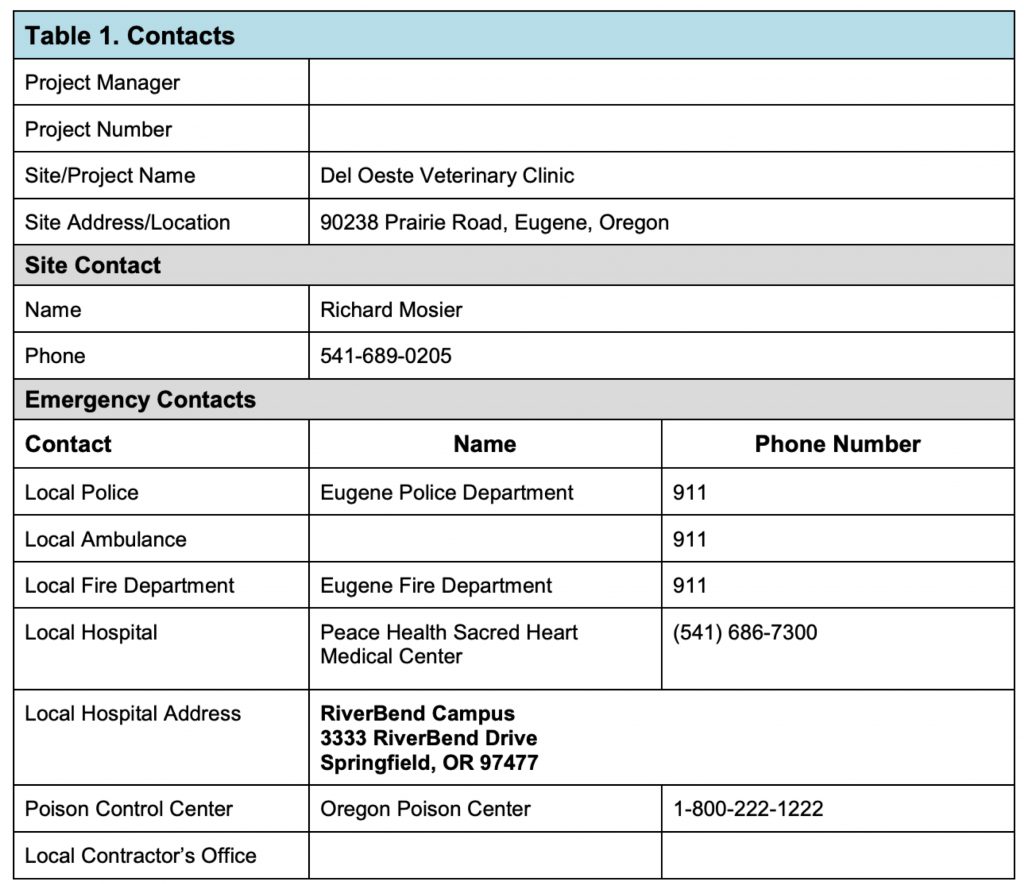 Dealing with SSSP: responsibilities
Project Manager
must provide project team governance by setting an example for safety awareness as well as developing, communicating and supervising the safety program. The project manager must enforce and set the tone for all safety related issues during and prior to the planning of each project phase. They must provide leadership and show commitment to a safe and healthy environment. Responsibilities shall include reviewing inspection reports, safety meeting reports and addressing health and safety issues on the job site.
Superintendent
must navigate, oversee and manage all site work, including safety. The superintendent must ensure that safety procedures are applied in an effective manner and that all employees are conforming to established rules and regulations. Duties include establishing a pre-job assessment prior to the start of the project, ensuring site foremen comply with safety regulations, conducting safety orientations for all new employees, reviewing all incident & corrective action reports, pre-task plans and enforcing disciplinary action when necessary. The superintendent will also work with the site safety representative overseeing regular site inspections, developing a site-specific emergency plan and implementing weekly tool box topics with subcontractors.
Project Engineer
Responsibilities include collecting all subcontractor safety programs, material safety data sheets (MSDS) and ensuring all site foreman have access to site plans.
Site Safety Representative
should act as the specific safety manager and will inspect the jobsite weekly, conducting safety inspections. Those include providing education and training opportunities to all employees, performing safety audits, discussing & providing weekly tool box topics, developing an emergency action plan and procedures, reviewing all safety programs and safety data sheets (SDS), scheduling Pre-Task planning meetings & overseeing implementation, issuing violation notices, issuing corrective action reports.
What does SSSP consist of
Depending on the service provider, the exact form and design of the Site Safety plan can vary. However, let us outline the common chapters that can be included:
a) Project Safety Orientation b) Jobsite Safety Inspections c) Emergency Procedures, Investigation & Reporting d) Emergency Signals & Procedures e) Fire Prevention f) Hazard Communication g) Tool Box Talks h) Safety Rules i) Safety Discipline
Finding a company to draw up the SSSP
Site Safety is an extremely sensitive issue that could lead to massive problems unless dealt with properly. Hence, it is critical to pick an experienced and reliable company for this job. Upstrate, the NYC Construction Management firm, have all the required licenses and, importantly, a high-skilled staff with 3+ years of experience for each Construction Superintendent and Construction Manager. Finally, the Site Safety Plan creation services are fully compliant with the Occupational Safety and Health Administration (OSHA) standards.